THE MONTESSORI SCHOOL GENEVA
The Montessori School Geneva is a small and friendly pre-school based on the philosophy and principles of the Montessori method founded in 1998 by Joelle Thommen. It offers a fun and stimulating English speaking education for children aged 3 to 6 years from all nationalities.
WHAT PARENTS SAY
"How hard it is to say good-bye! No words can express how thankful we are for these past three years of wonderful experiences at the Montessori School Geneva. And all thanks to your loving dedication to our children. You lead the best school in the world! We will miss you tremendously but leave with only the most loving memories."
WHAT PARENTS SAY
"My son is having such a wonderful time at your school, so it is with great regret that we have to tell you that we are moving to another country."
WHAT PARENTS SAY
"I can't thank you enough for the wonderful year my daughter had attending the Montessori School Geneva. Her eyes lit up anytime she would talk about her class and her wonderful teachers"
WHAT PARENTS SAY
"Thank you for another wonderful year. Our son learnt so much. He is always very happy to go to school, which means the world to us. We wish you a lovely and well deserved Summer Holiday, see you next year!"
At the Montessori School Geneva children will learn by doing. We help them develop their movement coordination, self-confidence and independence through their own activity with the Montessori material. We try to respond to each child individually by following his own rhythm and interests.
The School is situated on the left bank of Geneva. Since September 2013 the Montessori School Geneva is located in the residential area of Curé-Desclouds (Thônex), in a brand new minergie building. The school occupies the spacious and very bright ground floor.
Possibility to park in front of the school. Access by bus number 5, 25 and 37.
We provide enriching and fun activities which enable the individual child to explore and learn about many aspects of the world around him.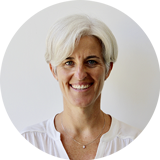 Joelle
Principal & Teacher
Joelle Thommen is the principal and founder of the school. She is a qualified 3-6 AMI teacher (Association Montessori Internationale) and has an Honours Degree from the Institute of Education – London University.
She has worked as a full time teacher in a London Montessori School for several years. Since 1998, she happily runs The Montessori School Geneva.
Joelle is a delighted mother of three. In her spare time she enjoys running, trails and swimming in the lake. She has run several European marathons.
Her expertise and knowledge of the child's early development will ensure that your child will grow in a warm and stimulating educational environment.
Agnès is a qualified 3-6 AMI teacher. She trained in Paris and worked in New Zealand in various Montessori schools before joining the team.
She has been a member of staff since 2003.
She is a truly dedicated, kind, gentle and experienced Montessori teacher. She enjoys working individually with the children as well as sharing her skills in baking, art work, singing, music & mouvment and story telling.
Agnès is the mother of five happy grown up children
Véronique is the French speaking member of staff. She holds an AMI Montessori Assistant diploma. Véronique comes to school on a daily basis over the lunch period always addressing the children in French.
Through songs, games and craft activities she introduces French to the children in a fun, ludic and gentle way. Véronique is in charge of the after school childcare.
The school is recognised by: